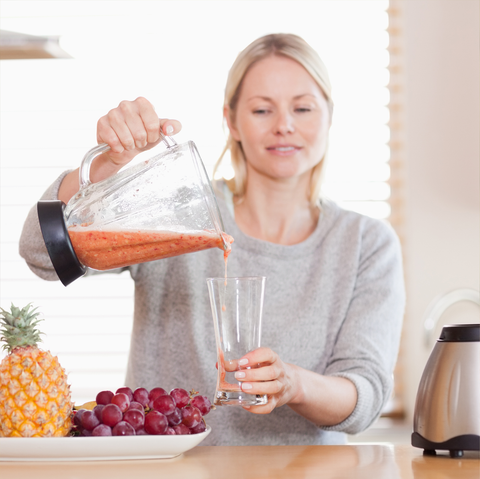 100% Natural Collagen
Supplements & enhances collagen production - Your body is 30 percent protein, and of that 30 percent, 90 percent is collagen. As your body ages, collagen production slows down which is when arthritic issues start to surface, and your skin and nails start to break down.
Premium collagen peptides - 100% All-natural hydrolyzed collagen peptides Type I-III hydrolyzed collagen peptides that are made in the USA and are specially formulated for human performance and recovery.
Corrective and preventative benefits - helps promote lean muscle growth, prevent bone loss, relieve joint pain, and promote a healthy immune system. Collagen provides added benefits of increased stamina, mood and appetite.
Recommended for all diets - Paleo friendly, keto friendly, kosher, sugar free and gluten free.
Easy to use - just scoop and mix into your favorite drink once or twice daily (per directions) to give your body the protein it needs to perform and recover!
Reach Your Peak With Step Above Proteins - our fans love it and so should you! Doctor recommended and approved for adults and seniors.
BENEFITS
Supports Joint Health
Strengthens Tendons and Ligaments
More Restful Sleep
Boosts Muscle Mass
Improved Digestion
Healthier Hair, Skin & Nails
Why Step Above Proteins?
Made In America
Collagen is produced around the globe and in many cases imported and sold by brands at a lower cost. Step Above Proteins proudly manufactures, packages and ships all of our collagen products in America.
Quality Ingredients
Our collagen peptides are sourced from farmers who raise the highest quality grass fed pasture raised beef bovine to give you peace of mind. We go the extra mile to have an independent lab test our collagen to ensure it is free from hormones, pesticides, and antibiotics.
NATURAL
All our products are natural. They are Non GMO, gluten free, BPA free, MSG free, and dairy free so you can feel great about what you are putting into your body. In addition, they are keto and paleo friendly.
what our customers say
I have been taking this collagen protein product for 5.5 years and I started taking it because as a massage therapist I developed arthritis in my fingers and wrist and I work out regularly and I was experiencing pain in these areas. I had been taking Great Lakes gelatin but was introduced to this product and what a world of difference between the two. After about 2 weeks my pain had subsided and my overall health just felt at its best and I knew this was a supreme pure product. Customer service was so helpful, I had called with many questions and the gentleman in the phone took his time with me and spent his time explaining everything in depth with made me more than confident in this product. Since then I have recommended this product to so many people and I do that with pure confidence and they are still customers as well. Thank you
Jo. S (Verified Buyer)
Frequently asked questions
+
How long do I have to take collagen to see the benefits?
Those that follow a daily regimen will see the incredible benefits in as little as four to six weeks. It is important to be patient and consistent in ensuring you take your daily dose for the collagen to make an impact on your body.
+
How are Step Above Proteins collagen peptides uniquely formulated?
+
How much daily protein do I get from Step Above Proteins?
+
Can I take collagen with my diet?
COLLAGEN FOR PETS
Just like in humans, animal collagen can provide man's best friend with benefits that can provide a major difference in their health. With only a single sourced premium ingredient, our collagen gelatin protein powder for dogs helps improve mobility, boost the quality of skin and coat health, improve the digestive function, and increase overall stamina. • Keeps joints young • Prevents injuries • Improves skin & fur • Helps gastrointestinal health • Improves joint health
Learn More